Aftermarket Rubber Tracks for John Deere, Caterpillar, Bobcat, Komatsu & more. OEM Replacement Tracks
STEEL
RUBBER
LARGE OR
SMALL

We cover it all !
Heavyquip stocks a wide variety of replacement rubber tracks & undercarriage parts for
John Deere
, ASV,
Bobcat
, Case,
Caterpillar, Cat
, Ditch Witch, Gehl, Hitachi, IHI, JCB, Kobelco, Kubota, Mitsubishi, New Holland, Takeuchi, Toro, Vermeer, Volvo and YaNmAr. We cover most mini-excavtors, track loaders, trenchers, asphalt pavers, dozers & tool carriers available in today's Market.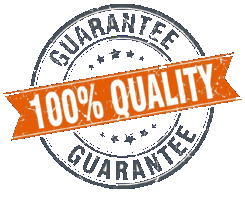 Aftermarket Rubber Tracks for John Deere, ASV, Bobcat, Case, Caterpillar, Cat, Ditch Witch, Gehl, Hitachi, IHI, JCB, Kobelco, Kubota, Mitsubishi, Komatsu, New Holland, Takeuchi, Toro, Vermeer, Volvo and Yanmar. If you're looking for some OEM Replacement Tracks for your equipment, then you've come to the right website. HeavyQuip sells the best replacement tracks that are built for your specific model, superior in strength, and designed to Maximize Performance. Getting our Tracks can last longer, which can help save you money. So if you're looking to buy replacement tracks for a John Deere 333E, a Bobcat T590 or a Caterpillar 239D, chances are we have what you need.
Aftermarket Rubber Tracks for Compact Track Loaders (CTL)
Replacement rubber tracks and undercarriage parts keep things like Track Loaders and Excavators moving. It's important to make sure these types of heavy equipment pieces are reliable and will be able to stand up to tough conditions. Each track is specifically designed to fit nearly every brand of heavy equipment machine on the market. In order to save time and money in repair costs, it pays to inspect and update the undercarriage on your equipment regularly. We offer several different tread patterns so you can select which one is right for you. If you need help deciding, our courteous and knowledgeable sales staff is always available to assist you.
Although even the best Tracks are built to be durable and last for a long time, they will not last forever. Heavy equipment machines are exposed to tremendous forces, incredible strain and rough terrain each day. The strenuous nature of construction work makes it easy for them to wear out in the course of any given work day. Metal elements will be able to last for months or years before needing to be replaced or repaired, while rubber and plastic pieces will not be so lucky. Eventually, they will require repair or you may even need to buy a new set. So when the time finally comes, in order to get the best aftermarket replacement tracks, your company should contact HeavyQuip and get your free online price quote!
We sell Tracks & Undercarriage Accessories for most John Deere Compact Track Loaders (CTL) including: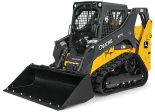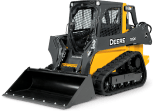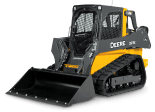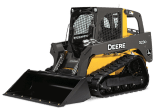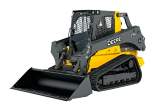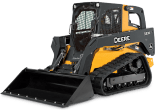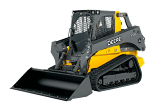 Previous Models: CT322, CT332
D-Series: 319D, 323D, 329D, 333D
E-Series: 319E, 323E, 329E, 333E
G-Series: 317G, 331G, 333G
We also have a huge inventory of Replacement Tracks and accessories for Caterpillar Compact Track Loaders (CTL) including these models: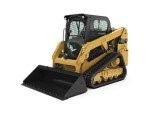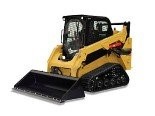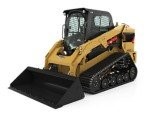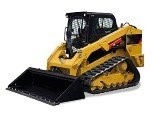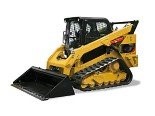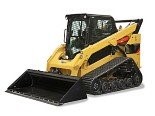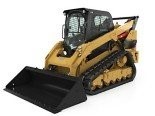 Below are some Bobcat Compact Track Loaders (CTL)