The moving components of the Undercarriage, such as Track Chains, Sprockets, Idlers, Track Shoes, Pads and Rollers are wear-items, meaning they are expected to wear down over time while in the process of doing their job. The bottom rollers carry the weight of the machine while it is traveling and digging. The front idler holds the track chain in proper alignment while the machine is traveling and acts as a shock absorber and chain tensioner. The upper rollers carry the chain in alignment and are high enough to allow debris to fall from the chain, so it is kept relatively clean. The drive sprocket engages the track chain and propels the machine by pulling the chain over the sprocket.
The Undercarriage can represent a significant portion of the operating costs for any type of heavy equipment machinery. Proper component maintenance will help extend its life and lower operating costs by keeping your equipment on the jobsite moving material and keeping you on schedule, rather than in the shop for repairs. With dozens of manufacturers, sizes and models, it is vital for today's construction equipment businesses to know exactly where to go when they need new or replacement parts. In business since 1953, HeavyQuip is known throughout the industry for its expertise, outstanding service and competitive pricing.
Every construction company will eventually need heavy equipment replacement parts. Make sure the ones you buy are from a reputable aftermarket dealer with decades of experience in the industry. Contrary to what modern advertising would have us believe, brand-name products do not have some special, magical element to them that makes them so much better than aftermarket products. In most cases, aftermarket undercarriage parts are just as good, with equivalent performance to brand-name items, and since they typically cost less, can save you money.

HeavyQuip was started way back in 1953 as a family-owned retailer with just a single store. Over the decades, we have continued to gradually build on that success and expanded to offer a full range of aftermarket undercarriage replacement parts for all types of construction machinery. Since the beginning, our heavy industrial equipment components have always been the company's specialty. We have a reputation for our fast order shipping & processing as well as a highly knowledgeable team of long-term customer service representatives. Let our experts use their proven expertise to help you find the perfect part. Simply tell them the make & model of the machine and what you're looking for, and they can assist you in finding the right items to purchase.
| | | | | |
| --- | --- | --- | --- | --- |
| Track Chains | Sprockets | Bottom Rollers | Track Shoes | Rubber Pads |
The longer a piece of machinery is down for the count, the more money flows down the drain. Proper maintenance starts with a daily inspection or as soon as the machine returns from a rigorous day. Use a track spade to clean the dirt from the top rollers and around the sprockets and idlers. The cleaning serves two purposes: to remove material that might freeze or dry overnight and cause components to be stuck in the first movement the next day, and to allow a visual inspection for loose, worn or missing components.
Construction is a back-breaking business, and it demands a lot from both workers and equipment. Heavy machinery, such as Excavators, Dozers, Loaders, Asphalt Pavers, Skid Steers, Compact Track Loaders and Tractors, spend the better part of each day in rough, dangerous conditions, performing seemingly impossible tasks that would cause lesser machinery to buckle. It is not surprising, then, that heavy equipment is often in need of repair or new parts.
Undercarriage Component Maintenance
Proper maintenance starts with a daily inspection or as soon as the machine returns from a rigorous day. Use a spade to clean the dirt from the top rollers and around the sprockets and idlers. The cleaning serves two purposes: to remove material that might freeze or dry overnight and cause components to be stuck in the first movement the next day, and to allow a visual inspection for loose, worn or missing components. A walk-around inspection of the Heavy Equipment should also be performed. Track tension should be noted. There should be some slack in the chain, but not too much. It's best to consult the operator's manual for proper specification. For example, if the chain is too tight it will wear all components at an excessive rate. If the track is too loose, it may come off while turning or on uneven ground.
In this walk-around inspection look for loose, damaged, or missing components including bottom rollers, track guides, top rollers and loose pads. While in the front of the machine, look down along the tracks to see if there is a section that is out of line. This could indicate a loose pad or possibly a broken pin. Stand to the side and confirm all rollers are in place and appear to be in proper alignment. Check rollers, idlers and final drives for oil leakage. Often when a roller or idler leaks, the oil drops into the track chain where it is difficult to see, but it is more noticeable where it would run down the side of the component. Rollers and idlers can be re-sealed if the outer shell has significant life left, but usually if the leak has gone on too long, there will be internal damage. It's more cost-effective to replace the component.
Rubber Tracks

Rubber Tracks wear in three areas; link height, external bushing wear and internal pin/bushing wear. Link height is measured from the pad to the top of the link that contacts the roller. The roller surface of the link is heat-treated to improve durability, but a seized roller can quickly grind off this hardened surface and weaken the chain. Measuring the link height gives an indication of this wear. Internal bushing wear can only be measured externally, by measuring the distance between the centers of track pins. It is recommended to measure in three different places and average the measured dimension. Compare this figure to the manufacturer's specification.
There are signs to check if regular maintenance had been forgotten or neglected. They include loose tracks (which adds wear to pins, bushings and sprockets), chipped or broken sprockets, and loose or missing sprocket bolts - plus an increase in repairs. If you notice tracks are packed with dry dirt or clay, or in winter, snow and ice, you have situations that block the rollers from turning and cause accelerated wear. If this happens, clean the tracks and inspect them to make sure they are still in good working order. If a machine is equipped with wider shoes than necessary for the application, you can expect to see shortened undercarriage life. Wide shoes are necessary in soft underfoot conditions, but take that wide shoe into harder ground conditions, stumps or rocks, and you can expect to see reduced life. Wide shoes have an impact on track chain wear in general and can increase the load on the complete drivetrain system and components.
Heavy Equipment Recoil Springs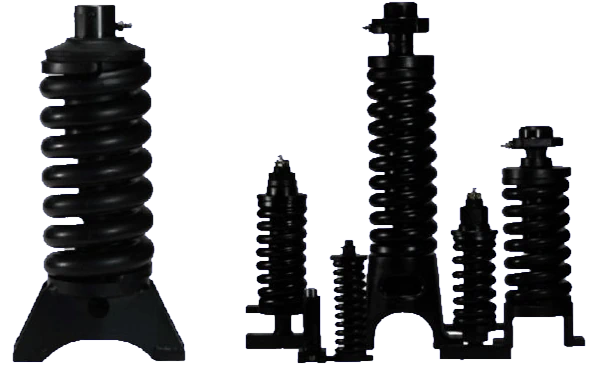 Recoil Springs, Sprockets, Idlers and Steel & Rubber Tracks are just a few of the most common components that today's heavy construction machinery will need to stay operational. These parts have a tendency to snap or wear out easily and need to be replaced often. It's a good idea to keep a supply of them nearby on any construction job, so that if a recoil spring, sprocket or other component goes bad in the middle of a work day, it can be quickly and easily replaced without having to order an item and keep the machine out of commission while waiting for the product to arrive.
These relatively delicate items move back and forth all day, taking on the energy of tremendous forces outweigh the recoil springs by tons. Most of the time, they do their job well and continue to hold up under extraordinary circumstances. Eventually, however, they will wear out, or a force will be too much for them and they will break. Order enough recoil springs in advance of a project and there will never be any downtime due to a broken one.
Heavy Equipment Track Bolts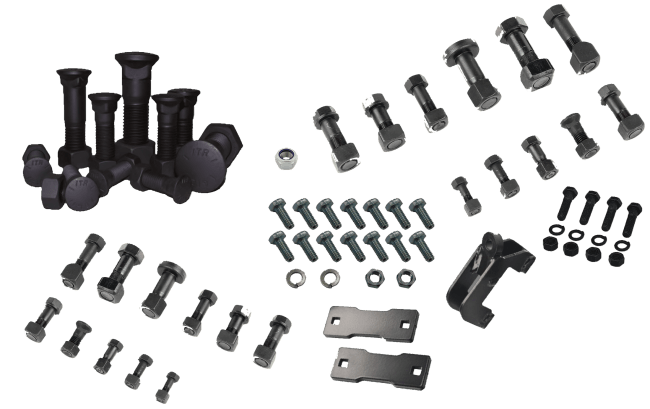 When Track Bolts break, any piece of machinery that uses them can be down for the count. Fortunately, they are easily replaced in just a few minutes when a skilled repair person is on hand. Most construction jobs have at least one person available who can do quick, minor repairs on heavy machinery. Good aftermarket bolts are a cost-effective solution to a frequent construction job dilemma.
Chain Sprockets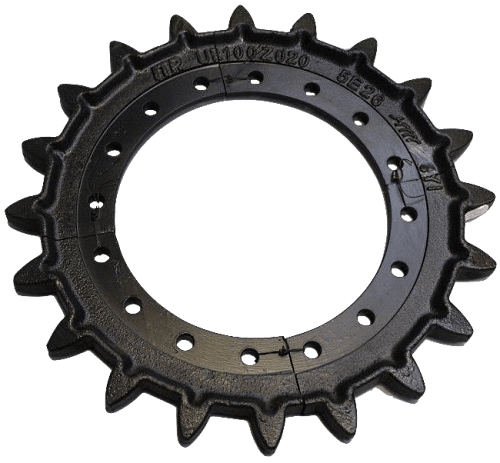 Chain sprockets are necessary components for skid steer loaders and other track-based heavy machinery used in the construction industry. Chain sprockets employ a system of grooved wheels (sprockets) and chains that mesh together to power a pulley system of linear movement or mechanical conversion. They are driven by engines, but the tooth-wheel combination keeps the motion continuous without additional power drain. Chain sprockets can be placed in the front or back of the machine, or both.
We have a number of chain sprockets, attachment pieces and various other components for heavy machinery at HeavyQuip. Our inventory includes many products that construction companies need to maintain and repair vital machines and vehicles used in daily tasks. We have loader, tractor, dozer, blade, bucket, boom swing and plow aftermarket parts that are designed to work with a number of manufacturers, including: Caterpillar, Takeuchi, John Deere, Linkbelt, Komatsu, Kobelco, Case, Bobcat, Hyundai, Samsung, Volvo, IHI, Kubota, Morooka, New Holland, Blaw-Knox, Yanmar and more.
If you would like to shop with us in person, we invite you to visit one of our locations across the USA. We have distribution centers in Little Rock Arkansas, Dallas & Houston in Texas, Knoxville & Memphis in Tennessee, Kansas City, Kansas and Jackson Mississippi. We also have on-site repair shops to help customers who need assistance with installation or mechanical failures.
*All manufacturers' names, symbols & descriptions are used for reference purposes only, and is not implied that any part listed is the product of these manufacturers.