Aftermarket John Deere Replacement Parts
Excavators - Backhoe Loaders - Wheel Loaders - Crawler Dozers
Motor Graders - Compact Track Loaders - Tractor Loaders
Scrapers - Skidders - Skid Steers - Waste Equipment
HeavyQuip sells a wide variety of Aftermarket John Deere Replacement Parts for most models, including rubber tracks, undercarriage parts, powertrain, brake systems and more. John Deere has been a part of American manufacturing and construction since 1837. Originally run as a tiny blacksmith shop by John Deere himself, the business gradually expanded to include the manufacture of heavy equipment of all kinds. The company now produces not only construction machinery, but also a wide range of home lawn care devices and agricultural machinery. There is also a financing branch of the company that was created to allow farmers and business owners to purchase the company's products with in-house credit.
John Deere heavy equipment for the construction industry includes tractors, excavators, augers, terracers, cranes and more. As a worldwide corporate entity, the company is widely recognized as one of the world's best. John Deere heavy equipment has a reputation for being reliable, durable and easy to use. The machines rarely break down, but when they do, there is always a replacement part close at hand available at HeavyQuip.
Below are some John Deere Compact Track Loader (CTL) Examples: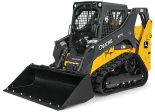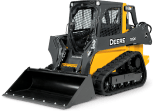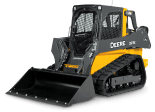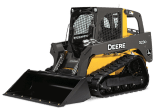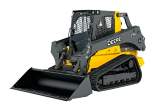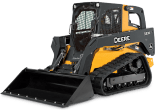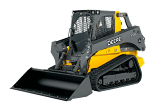 Previous Models: CT322, CT332
D-Series: 319D, 323D, 329D, 333D
E-Series: 319E, 323E, 329E, 333E
G-Series: 317G, 331G, 333G
Below are some John Deere Excavator Model Examples: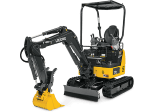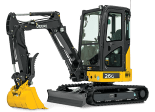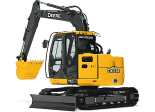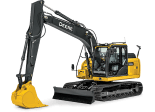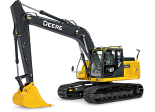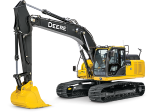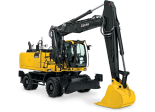 Rubber Tracks for John Deere Compact Track Loaders (CTL) and Excavator
If you're shopping for some New Aftermarket OEM Replacement Rubber Tracks for your John Deere Compact Track Loader (CTL), Excavator, Skid Steer or Mini-Excavator, then you've found the right place. HeavyQuip offers the finest Rubber Tracks that are crafted for your specific model and designed to Maximize your machine's Performance.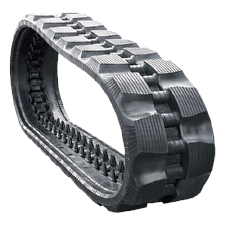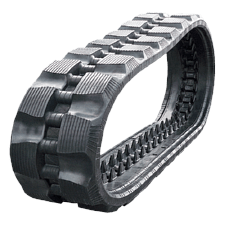 | Manufacturer | Model | Machine Type | Part Type | Part Category | Price Quote |
| --- | --- | --- | --- | --- | --- |
| John Deere | 317G | | | Undercarriage | |
| John Deere | 319D | | | Undercarriage | |
| John Deere | 319E | | | Undercarriage | |
| John Deere | 323D | | | Undercarriage | |
| John Deere | 323E | | | Undercarriage | |
| John Deere | 329D | | | Undercarriage | |
| John Deere | 329E | | | Undercarriage | |
| John Deere | 333D | | | Undercarriage | |
| John Deere | 333E | | | Undercarriage | |
| John Deere | CT322 | | | Undercarriage | |
| John Deere | CT332 | | | Undercarriage | |
John Deere Attachments and Other Heavy Equipment Parts
John Deere Attachments & equipment can be purchased for mowers, ATVs, tractors and utility vehicles, not to mention for large heavy commercial machinery as well. Landscaping companies, golf courses and sporting venues, in particular, use a variety of John Deere attachments to complete daily work tasks. John Deere attachments include:

Arena and power rakes
Box blades
Core aerators
Drawn box scrapers
Landscape rakes
Land levelers
Land planes
Posthole diggers and augers
Wood chippers
Soil pulverizers
Rear blades

All built to superior standards, these attachments are sought after by many buyers across the globe. The traditional John Deere green paint is the signature of this company and often comes along with a high price tag. To help your company save money, buy aftermarket attachments for John Deere machines.
Buy John Deere Snow Plow Blades
| | |
| --- | --- |
| Although snow plow blades and sweepers may seem pretty straightforward in use, there are actually many factors to consider when purchasing these items. Snow plow blades can be tailored to meet the size and workload requirements of varying John Deere machinery. Whether you need to convert your John Deere tractor or mower into a snow plow for your driveway or you need to buy large-scale plow blades for industrial snow removal, you can find it all at HeavyQuip. We have a massive parts inventory full of aftermarket blades, plows and other snow removal attachments for John Deere machines | |
Buy John Deere Replacement Teeth
| | |
| --- | --- |
| Teeth need to be heavy duty, durable and ready to tackle any environmental situation. Fortunately, the John Deere company is up to the task. For the better part of a century, this heavy equipment manufacturer has been building machines and parts that are the envy of the rest of the industry. You'll find that these teeth are up for any challenge. | |
Buy John Deere Final Drive & Transmission Parts
You can get aftermarket John Deere parts for equipment and more at HeavyQuip. In fact, we carry aftermarket parts for virtually every brand of heavy machinery. Let the staff members know what type of machine you have and the typical ways in which you need to use it, and they can direct you to the precise aftermarket model you need for your John Deere equipment and more.

These experts can even provide delicate parts for John Deere and other equipment, such as final drives, transmissions, axle shafts and more. Most John Deere equipment machines operate on standard engines, but these engines are getting increasingly complex as time goes on. Electronic components are now part of final drives and even transmissions. It can be difficult to locate the right part if you're not well-versed in the industry. At HeavyQuip, there is no part the staff can't find.
Buy John Deere Radiators & Aftermarket Replacement Parts
Every item we sell is backed by a warranty that guarantees replacement in the case of mechanical defect or incorrect shipment due to our mistake. Aftermarket John Deere radiators are made to work seamlessly with this company's skid steer loaders, tractors and any of the other 300 machines that John Deere manufactures. This premier company is known throughout the agricultural industry as a leader in industrial production of parts and vehicles. With distributors worldwide, you can find equipment no matter where your work takes you. One of the easiest ways to locate aftermarket radiator components for John Deere machines is to buy them online at HeavyQuip.
Just as in any other vehicle engine, the primary function of a radiator in a John Deere machine is to cool your engine and fluids to help them operate at ideal temperatures. Every time you use your tractor or skid steer loader, your radiator must contend with dust, debris, humidity, extreme heat, bitter cold and machine load stress. All of these factors adversely affect the performance of your engine, so it is vital that you keep all parts under the hood in proper working order. Hoses and valves should be checked regularly for leaks. Fluid levels should be topped off at the same time. Finally, regular service appointments should be made if an in-house mechanic is not available to your company.
Below are some John Deere Crawler Dozer Model Examples: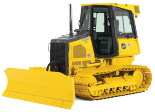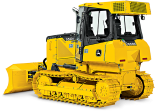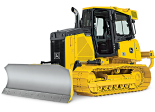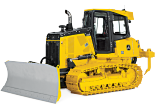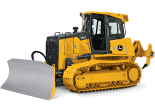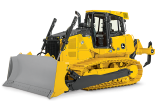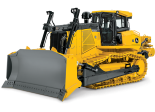 Below are some John Deere Skid Steer Loader Examples: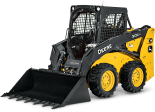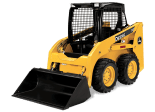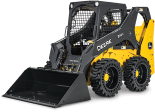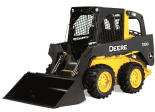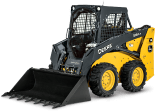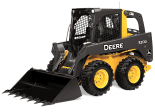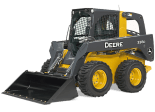 Buy John Deere Skid Steer Loader Parts
Most skid steer loaders combine turbocharged diesel engines and sleek engineering to create modern machines that can handle any job. John Deere Skid steer loaders are rigid in frame, but they can maneuver into even the tightest spots to pick up and transport materials. With added attachments, these machines can also perform drilling, digging and breaking duties with ease.
They can be loaded onto tracks for off-highway use or operated on wheels to move independently on flat surfaces. They usually also have four-wheel drive and can be mounted with left-side or right-side drive wheels for convenient operation. Perhaps the most unique element of skid steer loaders is that they feature zero-radius "pirouette" turning. This means that they don't have to back up or adjust to make a 360-degree turn--they can simply pivot on an internal axis to make a full circle. The agility of these machines makes them popular in many industries.
Caring for John Deere Mini-Excavators
Mini-excavators use hydraulic power to manipulate each attachment or tool. Because of the sensitivity of hydraulic mechanisms, it is vital that fluids are kept topped off and that parts are checked regularly. Equipment should be replaced immediately upon signs of wear, since a broken part can cause a domino effect of problems for this closely constructed unit. In addition, bad weather and adverse working conditions can cause faster wear on John Deere components, so constant maintenance is necessary when machines like mini-excavators, skid steer loaders and dozers are in continuous use. John Deere equipment encompasses a large selection of professional industrial machines, including skid steer loaders, attachments, compact excavators, utility vehicles, loaders and more.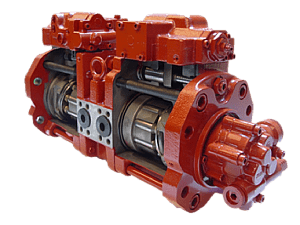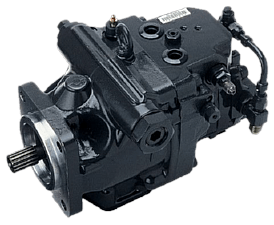 Below are some John Deere Wheel Loader Model Examples: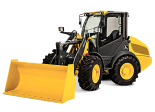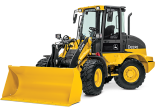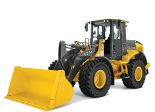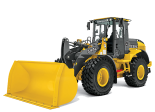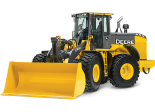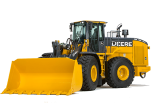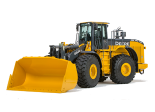 *All manufacturers' names, symbols & descriptions are used for reference purposes only, and is not implied that any part listed is the product of these manufacturers.