Aftermarket Caterpillar 249D Undercarriage Parts Online
OEM Replacement Caterpillar 249D Parts
We're ready to handle your Price Request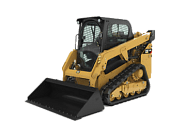 Aftermarket Caterpillar 249D Undercarriage Parts, such as Track Chains, Idlers, Rollers and Sprockets, are some of the most frequently replaced items on a Compact Track Loader CTL. Fortunately, many of these components might already be waiting in stock for you at a HeavyQuip location. Just give us a call or submit an Online Price Quote and we can help you get back up and running!
Aftermarket Caterpillar Undercarriage Parts typically cost less than the Manufacturer. The only difference is that they are made by a third-party manufacturer. All of the same specifications must still be followed and the installation and performance of the Aftermarket Replacement Parts must be perfectly matched to their factory-made counterparts.
Rubber Tracks
If you're shopping for some New Aftermarket OEM Replacement Rubber Tracks for your 249D Compact Track Loader CTL, Rubber Tracks come in several different tread patterns and sizes. Ours are designed to fit your specific make & model and constructed to get the best performace as well as save you money.
| Stock Image | Class ID No | Description | Link to Part |
| --- | --- | --- | --- |
| | RTC00499S-WI | | |
Track Bolts
When track bolts break, any piece of machinery that uses them can be down for the count. Fortunately, track bolts are easily replaced in just a few minutes when a skilled repair person is on hand. Items such as track bolts, chains, idlers and springs, are the most frequently replaced pieces on most construction equipment.
| Stock Image | Class ID No | Description | Quick Quote |
| --- | --- | --- | --- |
| | | | |
At HeavyQuip, you can call to find all types of industrial heavy equipment items for dozers, tractors and forklifts from just about every Manufacturer. In fact, heavy industrial equipment has always been the company's specialty. The business started out way back in 1953 as a family-owned retailer with just a single store. Over the decades, we continued to gradually build on that success and expanded to offer a full range of the highest quality products for all types of construction machinery, and designed it to fit your budget. We have a reputation for our fast order shipping & processing as well as a highly knowledgeable team of long-term customer service representatives. Let our experts use their proven expertise to help you find the perfect part. Simply tell them the make & model of the machine and what you're looking for, and they can assist you in finding the right items to purchase. You can call toll free at (877) 871 - 8787.
If you would like to shop with us in person, we invite you to visit one of our locations in the United States. We have distribution centers in Little Rock Arkansas, Dallas & Houston in Texas, Knoxville & Memphis in Tennessee, Kansas City, Kansas and Jackson Mississippi. We also have on-site repair shops to help customers who need assistance with installation or mechanical failures.
*All manufacturers' names, symbols & descriptions are used for reference purposes only, and is not implied that any part listed is the product of these manufacturers.