Aftermarket John Deere CT332 Rubber Tracks Online
OEM Replacement John Deere CT332 Rubber Tracks for Sale
Please submit a Free Quick Price Quote
OEM Replacement John Deere CT332 Tracks must be built to precise quality standards that are suitable for long-term use. A Compact Track Loader (CTL) is exposed to tremendous forces, incredible strain and rough terrain each day. That's why we sell only the finest Aftermarket John Deere CT332 Rubber Tracks Online, that are superior in strength, performance & efficiency as well as help you save money. Since every Compact Track Loader (CTL) is rubber tracked, it means there are a lot more Aftermarket Rubber Tracks for sale these days. That's why we created our popular Free Quick Price Quote system, in addition to our Toll Free number. We have highly trained professionals ready to assist you in finding the right component fast! If you decide to get an e-quote, you'll typically get a detailed reply in less than 30 minutes.
We typically carry more sizes & patterns of tracks than just the ones listed below
| Stock Image | Part No | Description | Quote Link |
| --- | --- | --- | --- |
| | RTC00507S-WI | | |
A Rubber Track provides better support, superior insulation from bumpy ground conditions and a far better range of environments in which they can be used than other types of tracks. Our industrial-strength equivalent treads are specifically designed to fit your CTL perfectly. There are more companies selling them these days than ever before, which is why our prices are so aggressive compared to our competition. Most construction companies try to buy quality substitutions when they need to purchase new ones. This can make it difficult to decide who to buy from. The good news is that HeavyQuip has been in business since 1953, so we know how to help you find what you need.
A top quality track needs to be tough and ready for action. Truly superior ones come with continuous steel cords inside that are often reinforced with a special coating that makes it even stronger and resistant to breakage. The cord provides interior support for the rubber track and makes them better able to roll over rough, rocky, uneven surfaces without wearing down or breaking, even under extremely tough environmental conditions. Our top of the line equivalents will get you rolling.
Even if you aren't exactly sure which parts you need, our helpful experienced sales staff can help you find the least expensive options for fixing any of your machines. After all, even the toughest industrial-quality heavy equipment parts will eventually need to be replaced. HeavyQuip is here to provide the parts your company needs when that time comes. We have multiple store locations across the United States and we even send shipments of parts anywhere in the world. So just click on the link in the box above to get your personalized price quote today!
An inside look at how a Rubber Track is designed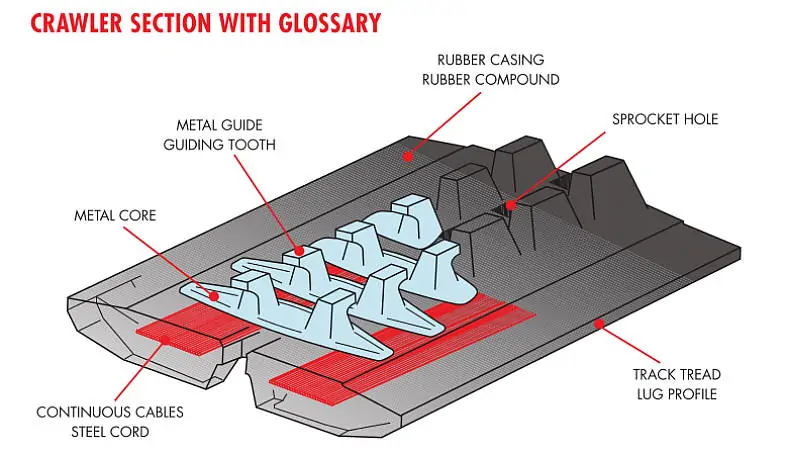 A few different design types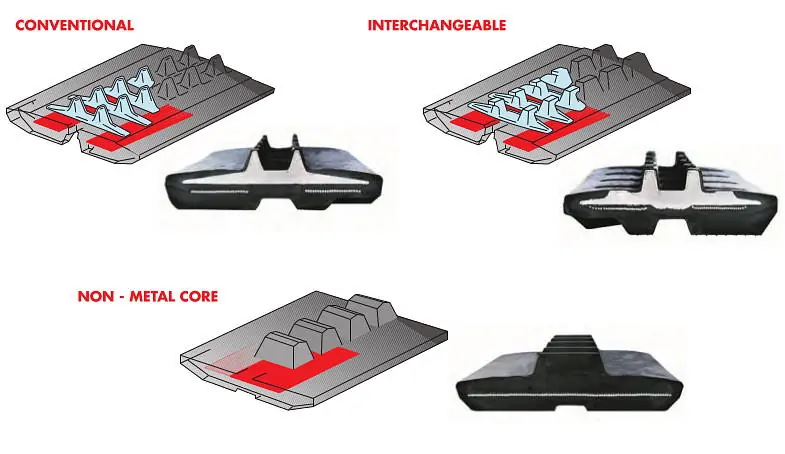 Excellent Sectional Cross-View with 6 examples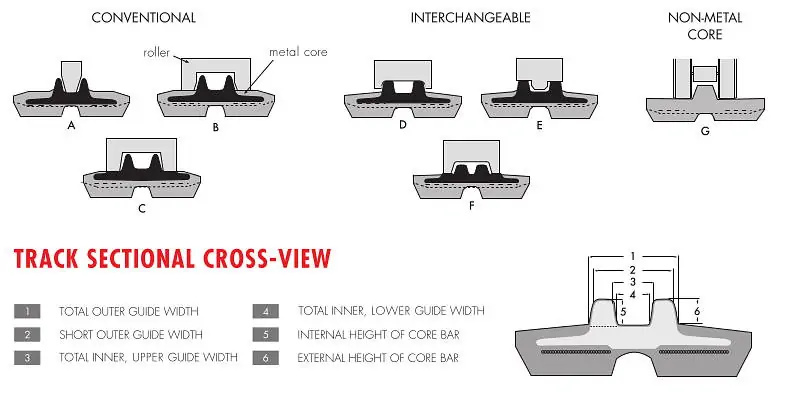 How the Sprockets, Idlers and Track Rollers work

In order to provide the most cost-effective solution to a damaged piece of equipment, it's important to look at the price as well as the characteristics of the product prior to making a purchase. It would be no good to buy an inexpensive product only to find out later that it was a poor constructed piece and didn't hold up under the demanding conditions of your job. Since we sell only top tier level items, this makes us an excellent choice for when a repair is in order. So give us a call at (877) 871-8787 or click on the email button below to contact our knowledgeable sales staff today!
At HeavyQuip, you can call to find all types of industrial heavy equipment items for dozers, tractors and forklifts from just about every Manufacturer. In fact, heavy industrial equipment has always been the company's specialty. The business started out way back in 1953 as a family-owned retailer with just a single store. Over the decades, we continued to gradually build on that success and expanded to offer a full range of the highest quality products for all types of construction machinery, and designed it to fit your budget. We have a reputation for our fast order shipping & processing as well as a highly knowledgeable team of long-term customer service representatives. Let our experts use their proven expertise to help you find the perfect part. Simply tell them the make & model of the machine and what you're looking for, and they can assist you in finding the right items to purchase. You can call us anytime at (877) 871 - 8787.
If you would like to shop with us in person, we invite you to visit one of our locations in the United States. We have distribution centers in Little Rock Arkansas, Dallas & Houston in Texas, Knoxville & Memphis in Tennessee, Kansas City, Kansas and Jackson Mississippi. We also have on-site repair shops to help customers who need assistance with installation or mechanical failures.
*All manufacturers' names, symbols & descriptions are used for reference purposes only, and is not implied that any part listed is the product of these manufacturers.