John Deere 329D Aftermarket Replacement Parts
John Deere 329D Compact Track Loader Undercarriage Parts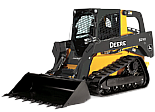 John Deere 329D Aftermarket Replacement Parts are available. We have a huge inventory of parts for the 329D including rubber tracks, undercarriage parts, powertrain, brake systems & more. John Deere has been a part of American manufacturing and construction since 1837. Originally run as a tiny blacksmith shop by John Deere himself, the business gradually expanded to include the manufacture of heavy equipment of all kinds. The company now produces not only construction machinery, but also a wide range of home lawn care devices and agricultural machinery. There is also a financing branch of the company that was created to allow farmers and business owners to purchase the company's products with in-house credit.
John Deere's heavy equipment for the construction industry includes tractors, excavators, augers, terracers, cranes and more. As a worldwide corporate entity, the company is widely recognized as one of the world's best. Thier heavy equipment has a reputation for being reliable, durable and easy to use. The machines rarely break down, but when they do, there is always a replacement part close at hand available at HeavyQuip.
Aftermarket Rubber Tracks
If you're shopping for some New Aftermarket OEM Replacement Rubber Tracks for your John Deere 329D Compact Track Loader, Rubber Tracks come in several different tread patterns and sizes. Ours are designed to fit your specific make & model and constructed to get the best performace as well as save you money.
| Image | Class ID No | Description | Current Stocked | Link to Part |
| --- | --- | --- | --- | --- |
| | RTC00507S-WI | | 2 | |
Undercarriage Idler Rollers
Undercarriage Idler Rollers. The front idler serves as a guiding support for the track chain. The idler is spring-loaded and mounted on slides, or guides, that allow it to move back and forth inside the track frame, as the machine passes over uneven ground. The spring-loading effect causes the idler to maintain the desired tension regardless of operating conditions.
| Image | Class ID No | Description | | Link to Part |
| --- | --- | --- | --- | --- |
| | | | | |
Undercarriage Rollers
Undercarriage Top roller & Bottom roller. These undercarriage pieces encounter many different kinds of rough terrain and materials in the performance of their jobs. In order for them to maintain optimum function, they must keep rolling smoothly, steadily and evenly at all time. If their rolling action becomes shaky, jerky or uneven, it will adversely impact the function of the overall machine, which could result in slowed project completion times and poor fuel efficiency.
| Image | Class ID No | Description | | Link to Part |
| --- | --- | --- | --- | --- |
| | | | | |
Sprocket
A Chain sprocket is a necessary components for skid steer loaders and other track-based heavy equipment used in the construction industry. Chain sprockets employ a system of grooved wheels (sprocket) and chains that mesh together to power a pulley system of linear movement or mechanical conversion. They are driven by engines, but the tooth-wheel combination keeps the motion continuous without additional power drain. A Chain sprocket can be placed in the front or back of the machine, or both.
| Image | Class ID No | Description | | Link to Part |
| --- | --- | --- | --- | --- |
| | | Sprocket Serial #192142 And Above 10B/H | | |
Track Bolts
When track bolts break, any piece of machinery that uses them can be down for the count. Fortunately, track bolts are easily replaced in just a few minutes when a skilled repair person is on hand. Items such as track bolts, chains, idlers and springs, are the most frequently replaced pieces on most construction equipment.
| Image | Class ID No | Description | | Link |
| --- | --- | --- | --- | --- |
| | RTRACK58 | Track Bolts | 12 | |
At HeavyQuip, undercarriage parts have always been the company's specialty. The business started out way back in 1953 as a family-owned retailer with just a single store. Over the decades, we continued to gradually build on that success and expanded to offer a full range of replacement products for all types of construction machinery, and designed it to fit your budget. We have a reputation for our fast order shipping & processing as well as a highly knowledgeable team of long-term customer service representatives. Let our experts use their proven expertise to help you find the perfect part. Simply tell them the make & model of the machine and what you're looking for, and they can assist you in finding the right items to purchase.